NO TICKET/RSVP REQUIRED!
Join us Friday or Saturday for a weekend long Christmas celebration! We will do a tour through the store, walking you through all the products so you can learn more about what we offer and be sure to pick our the perfect unique gift for your loved ones.

There will be festive herbal potions available all weekend like spiced cranberry cider fizz and our famous mushroom hot chocolate available with old fashioned herbal marshmallows. And we are so excited to add an extra touch of magic to the weekend with Finklepott's Fairy Hair!

An Official Finklepott Fairy, will be in store Friday and Saturday, fusing strands of magical sparkle hair to one strand of human hair. Finklepott's Fairy Hair is 100% safe, non-toxic and heat resistant. They offer a sprinkle of Magical Pixie Dust and the Finklepott Fairy Hair Blessing. 
Most clients enjoy the Finklepott's Original Fairy Hair™ for weeks to months, and you may meet people who say they wear it longer than that!
With Finklepott's Original Fairy Hair™
You can wash it, Brush it, Comb it, Curl it, Flat iron, (up to 450°!)
Color it, Straighten it, Perm it, Blow it dry, get your haircut, etc.
Do whatever you normally do to your hair -but most of all, ENJOY it!
AND on Saturday December 2, we will have Cedar Hill's own, Robyn, offering Plant Divination! 
Because every fairy needs to know what plant friends are trying to speak to them. 
Plant spirit oracle readings are done with a handpainted, herbal essence infused deck of locally growing herbs. 
Learn what plants may be trying to connect with you or what they may be trying to communicate. Optional flower essence pairing from Plant Portals (handmade by Robyn) with each reading as well 
Share
View full details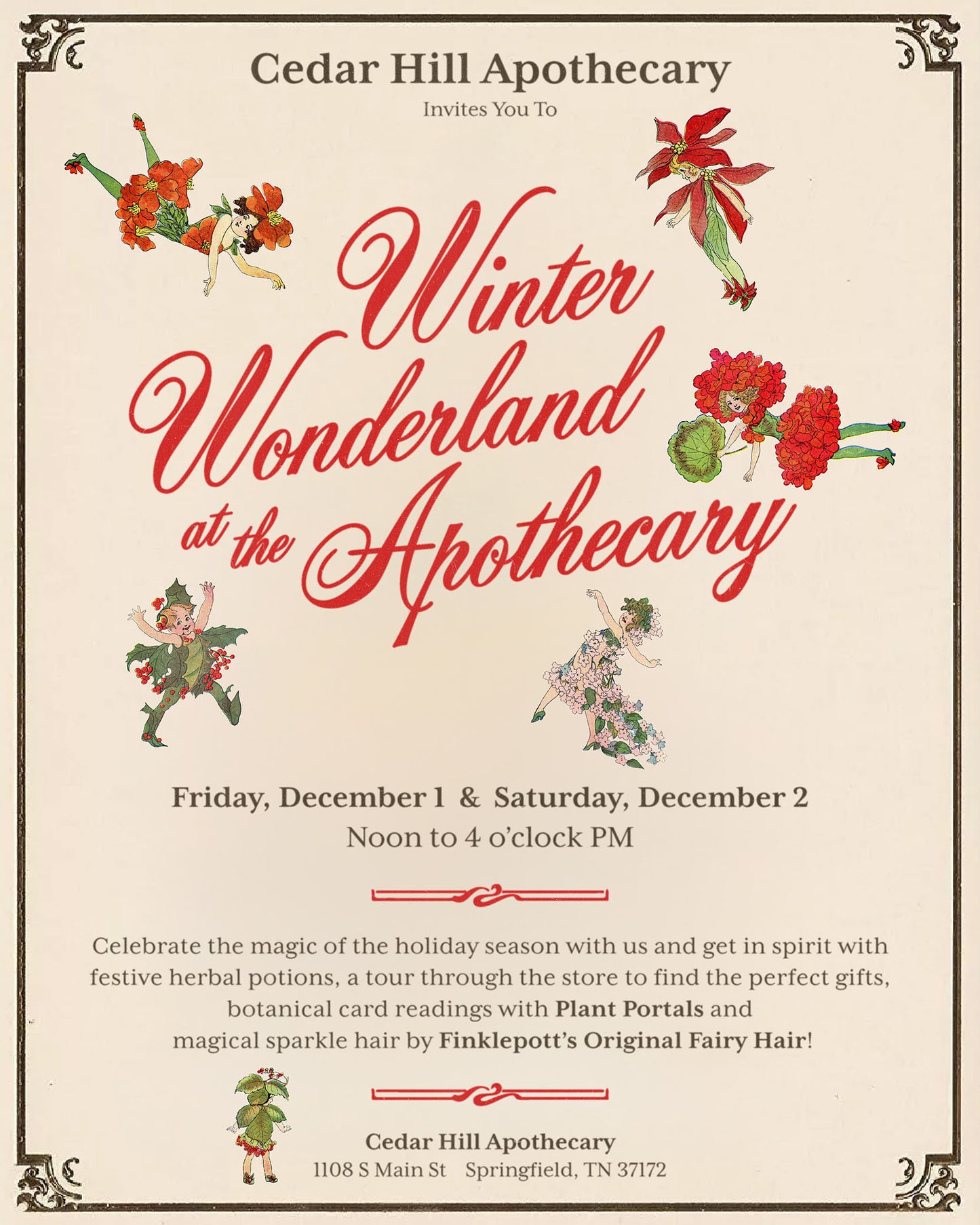 Want to be the first to know about Cedar Hill Events?
Visit our Events page and sign up for our newsletter to be the first to hear about upcoming classes or fun gatherings!